Only Hope Animal Rescue
In-Home Foster Network
Established

10/29/2013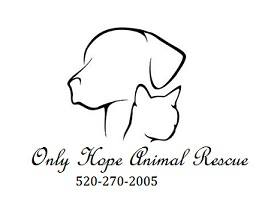 Small scale animal rescue focusing mainly on community outreach/education, spay/neuter programs, and adoption of rescued animals. Working to become a sanctuary for all \"pet\" animals.
To help reduce the number of unnecessary killing of animals due to lack of space, until there is no need. By means of education, retention programs, and foster/adoption programs.
Additional Notes:
We were just approved for our 501c3 status 10/24/2013, so we have put in the work to become a legal non-profit organization. Most adoption venues, veterinary clinics, and major donors do not recognize tax-exempt status until a month of activity, so we should have adoption sites and sooner vetting by December 2013. We will also hopefully be able to offer all expenses covered for our fosters (food, toys, bedding, etc) by December 2013.